Size & Fit
Hound Wellington Boots are designed to be comfortable.
If you need an insulated boot, then the neoprene does the job of thick welly socks (i.e. keep you warm), so you should not "go up a size" to allow for thick welly socks.
You should opt for the same size as your shoe size.
If you are buying a jersey lined welly, then you should opt for your usual shoe size as you'll be able to pair them with a thin sock for warmer temperatures and a thicker sock in colder temperatures.
Here is a handy guide explaining the different elements that are taken into account in sizing.
| | | | | | | | | | | | | | | |
| --- | --- | --- | --- | --- | --- | --- | --- | --- | --- | --- | --- | --- | --- | --- |
| UK Sizes | 2 | 3 | 4 | 5 | 6 | 7 | 7.5 | 8 | 9 | 10 | 10½ | 11 | 12 | 13 |
| Euro Sizes | 35 | 36 | 37 | 38 | 39 | 40 | 41 | 42 | 43 | 44 | 45 | 46 | 47 | 48 |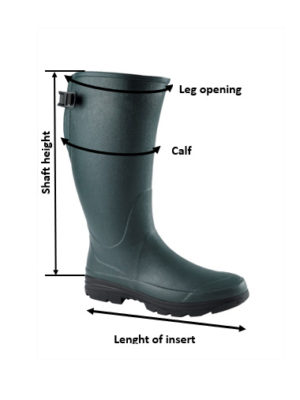 | | | | | | | | | | | | | | | |
| --- | --- | --- | --- | --- | --- | --- | --- | --- | --- | --- | --- | --- | --- | --- |
| Size | 35 | 36 | 37 | 38 | 39 | 40 | 41 | 42 | 43 | 44 | 45 | 46 | 47 | 48 |
| Length of insert [mm] | 22.5 | 23.5 | 24 | 24.5 | 25.5 | 26 | 27 | 27.5 | 28 | 29 | 29.5 | 30 | 30.5 | 31.5 |
| Leg opening [mm] | 35.5 | 36.5 | 37.5 | 38 | 39.5 | 40 | 40.5 | 41.5 | 42 | 43.5 | 44 | 44.5 | 45.5 | 46.5 |
| Calf circumference [mm] | 35 | 36 | 36.5 | 37 | 39 | 39.5 | 40 | 40.5 | 41 | 42.5 | 43 | 43.5 | 44.5 | 45.5 |
| Shaft height [mm] | 36 | 36 | 36 | 36 | 37 | 37 | 37 | 39 | 39 | 39 | 41 | 41 | 41 | 41 |